One Year MBA at Cranfield, UK
Name of the B-School: Cranfield University School of Management
Name of the Course: MBA Full Time
Course overview
Start Date: 30th Sept. 2019

Duration: 13 months

Qualification: MBA

Study Type: Full Time

Campus: Cranfield campus Central Avenue Cranfield, Bedford MK43 OAL United Kingdom
Accreditation
Cranfield School of Management holds the triple accreditation of: 
AACSB International (the Association to Advance Collegiate Schools of Business),

 AMBA (the Association of MBAs) and 

EQUIS (European Quality Improvement System
Rankings
9th in the UK, 18th in Europe and 76th in the world in the Financial Times 2019 ranking of full-time MBA programs.
6th in the UK and 17th in Europe in the Financial Times European Business Schools 2018 Rankings.
What is full time One Year MBA program?
As per B-School website,full-time MBA program is an intensive one-year program designed to help the students develop robust leadership skills and become proficient in a broad range of management techniques. This allows them to thrive in a world where relevant management skills are at a premium and where business practices evolve rapidly as the pace of business increases.
The program gives students the opportunity to fully immerse themselves in their studies, allowing them to:
Create and implement their own leadership development plan, setting a vision for where they want to be professionally and how they are going to get there
Prepare for and find a professional role that suits them, based on their personality, skills, experience and career aspirations
Develop a sophisticated understanding of core aspects of business and finance, as well as enhance skills such as self-awareness, teamwork and resilience

Grow their confidence and competence to take on new challenges

Build relationships with and learn from experienced, like-minded professionals from around the world
Who is Cranfield One Year MBA  for?
As per b-school website, their full-time one-year MBA program is designed for professionals with at least three years' work experience and suits people who:
Recognize that business success is about people, about collaboration, intrapersonal and interpersonal intelligence

Want a 'real world' business education where learning theories, tools and techniques are complemented by acquiring the skills to apply them in real business situations

Are motivated to become better leaders, team players and individuals, and who are committed to developing themselves and others

Want to join a global community of alumni, business partners, fellow students, friends and supporters, collectively striving to improve the practice of management
Why Cranfield One Year MBA?
As per b-school website, Cranfield School of Management is one of the oldest and most prestigious business schools in the UK. They are known for excellence in leadership development and their strong links with global businesses. Their long tradition of management education means that they have a global alumni network of over 28,000 members in over 130 countries worldwide.
The Cranfield Full-time MBA will help students to:
Create and implement their leadership development plan, setting a vision for where they want to be professionally and how they are going to get there.

Prepare for and find a professional role that suits them based on their personalities, skills, experience and career aspirations.

Develop a sophisticated understanding of the core aspects of business and finance, as well as enhance their soft skills such as self-awareness, teamwork and resilience. 

Discover the confidence and competence to take on new challenges, and raise the level of their ambitions.

Build relationships with and learn from experienced, like-minded professionals from all around the world.
Class profile 2017-18
Class size: 43

Age range: 22-46 Years

Female: 42%

Male:  58%

Nationalities represented: 18 
Eligibility
Entry requirements
According to B-School website, they welcome applications from talented candidates of all backgrounds and each application is considered on its individual merit. Usually candidates must hold either a first or a second class UK honours degree in a relevant discipline; or the international equivalent of these UK qualifications; or a professional qualification (e.g. CIMA, ACA, ACCA) and have five years' relevant work experience. They welcome candidates with Graduate Management Admission Test (GMAT) scores over 600. They also offer our own admissions tests as an alternative to GMAT, for candidates who are able to come to Cranfield for interview.
You will need to have:
A minimum of three years' post-qualification work experience

A good degree and / or professional qualification

Applicants who do not have a degree are welcomed provided they can demonstrate high levels of achievement, exceptional career progression or evidence of leadership potential
GMAT
They welcome candidates with Graduate Management Admission Test (GMAT) scores over 600. The average score for our Full-time MBA students is currently 680. You will need to contact GMAT directly to book an appointment to take the test.
Cranfield's GMAT registration number is:
Full-time MBA – K2H-N3-65

 
GRE
They welcome candidates with a minimum GRE score in the 80th percentile for both verbal and quantitative reasoning.
Designated Institution Code for GRE is 3641.
Cranfield admission tests
They also offer their own admissions tests as an alternative to GMAT, for candidates who are able to come to Cranfield for interview. There are two paper-based tests, designed to assess candidate's numeracy and problem solving skills.
Additional eligibility criteria for international students
English Language
If you are an international student you will need to provide evidence that you have achieved a satisfactory test result in an English qualification. The minimum requirements are as follows:
IELTS – 7 overall
TOEFL – 100
Pearson PTE Academic – 68
Cambridge English Scale – 190
Cambridge English: Advanced – C
Cambridge English: Proficiency – C
Trinity College London Integrated Skills in English III – pass
In addition to these minimum scores you are also expected to achieve a balanced score across all elements of the test. The B School reserve the right to reject any test score if any one element of the test score is too low.
The B School can only accept tests taken within two years of your registration date (with the exception of Cambridge English tests which have no expiry date).
Students requiring a Tier 4 (General) visa must ensure they can meet the English language requirements set out by UK Visas and Immigration (UKVI) and the B School recommends booking a IELTS for UKVI test.
Dates and deadlines
Cranfield One Year MBA Application Deadlines 2019
Applications for 2019 entry are closed.
Cranfield One Year MBA Application Deadlines 2020
 Round 1         27 October 2019**

Round 2          6 January 2020**

Round 3          15 March 2020

Round 4          17 May 2020

Round 5          26 July 2020*
**Applicants for 2020 entry who submit their complete application by this deadline will obtain a £10,000 early bird discount on fees. To qualify for the discount candidates will have to have paid their deposit 30 days following receipt of an offer of a place.
Applicants requiring visas or campus accommodation are strongly advised to apply by March deadline.
* We will only consider applicants with a valid GMAT or are those who are willing to take our admissions test.
Course term Dates 2019
Orientation Week: 30 September 2019 – 04 October 2019

Term One: 07 October 2019 – 20 December 2019

Term Two: 13 January 2020 – 27 March 2020

Term Three: 14 April 2020 – 03 July 2020

Term Four: 06 July 2020 – TBC
How to apply for Cranfield One Year MBA?
The application process
As per B-School website, Before submitting your application, the B-School Admissions team will be happy to review your profile before you apply. Simply complete the short online eligibility assessment form at the top of your course page. They will respond with their recommendations for your next steps.
Visit the course page online and review the entry requirements

Click 'Apply now'

Register to use our online application system, you can then create, save and amend your application before submitting it

Complete the online application form

Submit supporting admission documentation with your application or at a later date using our online portal

Attend an interview. If you are based outside the UK you may be interviewed by telephone or video call

Receive a decision about your application by email
Preview days
The B-School regularly hold Executive MBA Preview Days at Cranfield. These offer you the opportunity to spend a day with them to experience Cranfield's unique atmosphere and culture. You will take part in a case study, sample a lecture, meet current students, program directors, the career development team and alumni – and learn much more about Cranfield MBA than you can from just reading the brochure or visiting the website. Find out when there is one that suits you at www.cranfield.ac.uk/som/mbaevents.
Fee and funding
Total fees: £39,000
Payment schedule
£3,000 non-refundable deposit will be due 30 days following receipt of an offer of a place. The remainder of the tuition fees is payable at the start of the program.
While accommodation and living expenses are substantially lower at Cranfield than in major cities such as London, please budget an additional £12,000 for accommodation and living expenses, or more if you are bringing a partner and family.
Fee notes:
The fees outlined apply to all students whose initial date of registration falls on or between 1 August 2019 and 31 July 2020.

All students pay the tuition fee set by the University for the full duration of their registration period agreed at their initial registration.

A non-refundable £3,000 deposit is payable and will be deducted from your overall tuition fee.

Fee eligibility at the Home/EU rate is determined with reference to UK Government regulations. As a guiding principle, EU nationals (including UK) who are ordinarily resident in the EU pay Home/EU tuition fees, all other students (including those from the Channel Islands and Isle of Man) pay Overseas fees.
Funding Opportunities
Cranfield students finance their MBA through a variety of different means. You may wish to find out whether you would qualify for a Prodigy Finance Loan, a Cranfield MBA scholarship or if you are a returning student qualify for the Discount Scheme.
Alumni Discount Scheme
As per B-School website, they are immensely proud of their network of 60,000+ alumni and they are committed to ensuring that their relationship is both rewarding and lifelong. 
For this reason they offer an exclusive discount scheme to alumni who have successfully completed a Cranfield postgraduate course and would like to return to Cranfield to complete their Full-time MBA .
All those who qualify will receive a 50% discount on their tuition fees.
Discount Details
The scheme is open to all alumni who have completed an MSc, PhD, MRes or MDes degree at Cranfield. 
In addition:
All applicants must fulfil the program entry criteria*.

The discount will be applied to the course fees once the applicant has received an offer of a place on either the full-time MBA or part-time Executive MBA program.
*The B-School will not require alumni to take an English language proficiency tests if they met the requirements during their original Cranfield studies, and the programme was at least a year in length.
Additional Alumni Discounts
Alumni who have completed one of our selected short courses will instead receive a 20% loyalty discount on tuition fees.
Loans
Prodigy Finance Loan Program
Once you have a firm offer of a place to study on the Cranfield MBA, you are eligible to apply for the Prodigy Finance Loan Programme, which offers an innovative way of helping you finance your studies. Founded by three MBA alumni, Prodigy Finance provides funding for students through contributions sourced from the university, alumni and friends of the school. At this time, only full-time MBA students are eligible to apply for a Prodigy Finance loan and access to funds is dependent on the level of funds available. The loan amount is capped at £25,000 (plus life cover) and can only be used for tuition and living expenses. Apply directly through Prodigy's online platform
Prodigy Finance Ltd: Palladium House, 1-4 Argyll Street London W1F 7LD United Kingdom
Company Number 5912562

License number 612713/1
Lendwise Postgraduate Student Loan
UK-domiciled students with an offer to study for any course the School of Management (full-time and part-time basis) are eligible to apply to Lendwise for a student loan.
Through its innovative online platform, Lendwise offers fair, sensible and student-friendly loans at competitive rates. Lendwise offers personalised loans that take into account your specific profile including future earnings potential when assessing your credit worthiness.
Eligible students can borrow up to £100,000 over 10 years with no co-signor or guarantor needed. For full-time students there are no repayments while you study and up to 6-months further grace after you graduate (subject to approval). Interest rates are fixed for the term of your loan and there are no penalties for early repayment of your loan.
Lendwise address: Swan House, 33 Queen Street, London, EC4R 1BR, United Kingdom
Company Number 10466048

FCA Reference number 782496
Scholarships
British and European Leadership Scholarships
Cranfield School of Management offers up to ten half-fee scholarships to our most talented self-funded British and European candidates who can demonstrate exceptional leadership potential.
Award: up to £19,500 towards the tuition fees

Number of awards: 10

Deadline: 31 March 2019
Please note these scholarships cannot be used in conjunction with any other award or discount.
Cranfield Australian Alumni Scholarship 
Cranfield School of Management, in partnership with the Cranfield Australian Alumni Scholarship Foundation (CAASF), offer the Cranfield Australian Alumni Scholarship for an outstanding candidate of Australian origin. Funded jointly by Cranfield alumni in Australia and Cranfield School of Management in the UK, the scholarship was established in 2005 to give talented Australians the opportunity to benefit from a world-class business education at Cranfield School of Management.
The scholarship is the only scholarship in Australia that is focused on identifying future leaders and entrepreneurs by providing them with a unique opportunity to accelerate their professional, personal and leadership development by undertaking a one-year Full-time MBA course.
Value: £39,000 (full tuition fees).

Number of awards: 1
Scholarship details
To be eligible to apply for the scholarship, you must:
be an Australian citizen and resident in Australia during the application period

be passionate about Australia and want to contribute to the country

be accepted for the Full-time MBA course through the normal application process
To apply for the scholarship, candidates must first have been offered a place on the Cranfield MBA program. For entry onto the MBA course, candidates will need to take the GMAT exam or the Cranfield Admission Tests. The Cranfield Admission tests will be held in Sydney, and Melbourne in February please contact us for further information and if you would like to sit the tests.
Cranfield MBA Scholarship for Women in STEM
Cranfield School of Management offers the Cranfield MBA Scholarship Women in STEM. To recognize the contribution of women in the fields of science, technology, engineering, and mathematics, this scholarship aims to give an increased number of women with a background in these subjects the opportunity to study an MBA at Cranfield.
Course: Full-time

Value: up to £14,000 towards the tuition fees
The admissions board will award the scholarships based on evidence of career progression, senior management potential and interpersonal and team-working skills.
Cranfield New Zealand Alumni Scholarship
New Zealanders have a proud tradition of success at Cranfield, and in recent years New Zealanders on the course have taken academic honors and leadership awards.
Cranfield School of Management has also been key in energizing the careers of a growing global community of New Zealand alumni and building on this, the School, together with their New Zealand alumni, offer the Cranfield New Zealand Alumni Scholarship for outstanding New Zealand MBA candidates.
The scholarship covers full tuition fees for the full-time MBA course (£39,000). The NZ-UK Link Foundation will pay for the airfare from New Zealand to the UK.
Number of awards: One full-fee scholarship is awarded, with potential for partial bursaries towards tuition fees for other outstanding candidates. In recent years we have had up to seven New Zealanders studying the MBA in one single cohort.
Leo Murray Entrepreneurship Scholarship
The Leo Murray scholarship was set up in honor of Professor Leo Murray who retired as Director of the School of Management in 2003.
Course: Full-time MBA

Value: up to £14,000 towards the tuition fees

Number of awards: 1
Scholarship details: The award will be granted to a candidate who has achieved significant academic and career success to date, and who can demonstrate both individual strengths and entrepreneurial spirit.
Relithan (Technology) Scholarship
The Relithan Scholarship will be awarded to outstanding individuals who will use their Cranfield experience to pursue a productive executive role in a business which creates value in the development and delivery of technology.
Preference will be given to individuals whose career track record reflects the highest standards of responsible and ethical business practice and suggests that their future career intentions will lead to demonstrably enhancing the lives of others.
Award: £10,000

Number of awards: 2
Eligibility
The Scholarship recipient will be selected on the basis of merit, and financial need and the award will be made to an individual who would not be able to attend Cranfield without financial assistance. This scholarship will be awarded by the Director of the MBA program in consultation with the MBA admissions team, in line with the School's standard admissions practices and procedures.
*The University reserves the right to transmute the scholarship into a loan if recipients go on to pursue a career outside the technology sector.
Simon Rowlands MBA 1986 Scholarship Fund
The Simon Rowlands MBA Scholarship is for two successful MBA candidates from the UK and EU who want to pursue a full-time MBA at Cranfield School of Management.
Award: £11,000 towards the tuition fees

Number of awards: 2
The Worshipful Company of Farmers Scholarship
Cranfield School of Management in conjunction with the The Worshipful Company of Farmers, is offering a suitably qualified British farmer, or someone closely associated with farming, the opportunity to study for the Cranfield MBA.
Value: up to £39,000

Number of awards: 1
Scholarship details
Scholarship interviews will be held with the Worshipful Company of Farmers Education Committee and the awards will be granted to candidates who can demonstrate not only that they will benefit from studying at Cranfield, but also the leadership qualities that will enable them to act in the vanguard of management change in the UK agricultural industry.
Selection criteria
The selection criteria for the scholarships will be based on:
Strength of the application: An applicant's achievements, academic credentials, professional track record and personal merit.
Interview: An assessment of the applicant's communication and interpersonal skills, leadership and/or entrepreneurial potential as well as the candidate's likely contribution to the professional and cultural make-up of the cohort.
The Spotcap Fintech Fellowship
The Spotcap Fintech Fellowship is worth £8,000 for UK students pursuing a postgraduate degree in study related to financial technology.
Sino-British Leadership Scholarship
The Sino-British Leadership Scholarship is awarded annually to a student above 33 years of age, either British or Chinese, who has demonstrative leadership potential for doing business between or in either Britain or China. This scholarship is also open to a British student with interest or connections in China / FE or to a Chinese person with a connection and/or an interest in Britain.
Award: up to £10,000 towards the tuition fees

Number of awards: 1
Applicants who are awarded a scholarship will be notified at the time of the admissions decision. Students granted this scholarship are expected to help promote Cranfield in their country.
Course Structure
Modules
As per B-School, Keeping courses up-to-date and current requires constant innovation and change. The modules offered reflect the needs of business and industry and the research interests of the B-School staff. As a result, they may change or be withdrawn due to research developments, legislation changes or for a variety of other reasons. Changes may also be designed to improve the student learning experience or to respond to feedback from students, external examiners, accreditation bodies and industrial advisory panels.
To give you a taster, they have listed the compulsory modules affiliated with this course which ran in the academic year 2018–2019. Also (where applicable) some optional modules which were offered in the same academic year. There is no guarantee that these modules will run for 2019 entry as all modules are subject to change depending on your year of entry.
Course modules
Compulsory modules
All the modules in the following list need to be taken as part of this course.
Organizational Behavior: Personal and Professional Foundations of Leadership and Change

Accounting

Strategic Operations Management

Strategic Marketing

Economics of Organisations and Strategy

Entrepreneurship and New Venture Creation

Venture Capital Investment Competition

Finance and Management

Strategic Management

Project Management Introduction

Global Macroeconomics and Business Environment

Challenges for Leaders: Managing People and Change

International Business Assignment

Data Analytics and Decision Making

Leadership in Action
Elective modules
A selection of modules from the following list need to be taken as part of this course
Finance
Corporate Financial Strategy

Corporate Finance Transactions

Investment and Risk Management

Managing International Mergers and Acquisitions
Entrepreneurship
Entrepreneurial Finance

Leading and Managing the Family Enterprise
Strategy
International Strategy

Strategizing in Challenging Contexts

Strategic Human Resource Management in the 21st Century

Driving Value Through the Supply Chain
Leadership
Leaders as Thinkers: Leadership through Philosophy

Negotiating in Business and Organizations

Leading Sales and Customer Management Organizations

Leading Sustainable Organizations

Business Law
Strategy and Leadership
Managing Strategic Innovation

Strategic Quality Management
Projects
Syllabus
Working in small groups, you will apply what you have learnt in your core and elective modules to a consultancy project. You will help an organization to tackle a contemporary challenge, researching the problem, analyzing data and making recommendations for action.
Placement
As per B-School, they will help you not only to secure your first role post-MBA, but to plan for a successful lifelong career. With the support of their career development team, you will work out where you want to be professionally and how to get there. You will learn to identify the fit between what you have to offer and what is required by employers, to differentiate yourself and pitch yourself.
63% of students changed country after graduation 

Average exit salary £63,929

74% of students employed in the UK after graduation

58% of students changed industry sector after graduation 

92% of students employed 6 months after graduation
Companies recruiting Cranfield MBA students include:
Trinity

BCG Africa

IB Boost

OEE

Mansion House Consulting

PwC

Deutsche Bank

NHS

Singapore Airlines

GE Capital

HCL

HolovisCrane

iGate

Barclays

Samsung

KPMG

Infosys

Vilantys

TCS Mumbai

Arcelor Mittal

JBW

DHL
According to the B-School Career Development Service, "the mission is to equip the students with the tools they need to take a strategic approach to their personal career development, supporting them through skills based learning to achieve your full potential."
Source 1
Got a comment, question or input? Share it below!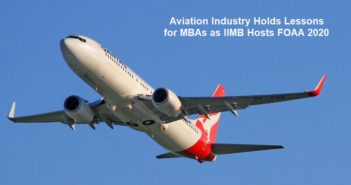 The International Conference on Future of Aviation & Aerospace (FOAA 2020) conference hosted by IIM Bangalore and Bangalore International Airport…
Data from previous years
CLASS PROFILE 
Coming soon
APPLICATION ESSAYS
Cranfield Essay 1: Please outline your career objectives and how the MBA will help you to achieve them.
Cranfield Essay 2: What positions of responsibility have you held (not necessarily business related)? What have you gained from this experience?
Cranfield Essay 3: What single event or achievement has been most significant in your life? What were the results of this event or achievement?
Cranfield Essay 4: Describe an ethical dilemma you have experienced firsthand. Discuss how you thought about and managed the situation.
Cranfield Essay 5: Please give details of your hobbies, sporting activities and other outside interests, for example work in the community.
Cranfield Essay 6 (Optional): This is your opportunity to add any other information that you believe may influence our decision on your application.
Cranfield Essay 7( Scholarship) : Please use the following space to make a case for being awarded one of our scholarships. Please specify which scholarship you are applying for.