Name of the B-School:  Indian Institute of Management, Bangalore

Name of the Course: Post Graduate Program in Enterprise Management (PGPEM)
Executive MBA /

MBA for Executives / PGPEM at IIM Bangalore |   Accreditation | Ranking | Class Profile | Eligibility Criteria | Admission Process | Fees | Course Structure | Placement
Course overview
Course Duration: 2 Years

Course Type: Flexible, Weekends Only

Course Start date: N/A

Location: Bangalore, India
Accreditation
Indian Institute of Management Bangalore (IIMB) has obtained the European Quality Improvement System (EQUIS) accreditation, introduced by the European Foundation for Management Education (EFMD)
Rankings
For the tenth consecutive year, IIM Bangalore ranked #1 Business School in Central Asia region in 2018 by the Eduniversal Masters Ranking, Paris

Ranked #2 in 'India Rankings 2018', by the 'National Institutional Ranking Framework' (NIRF), Ministry of Human Resource Development, India

IIM Bangalore EPGP Ranked 11th in Asia-pacific and moved up by 14 spots in the year 2018 to 35th rank, globally by the 'Financial Times' in Global MBA category

IIMB's EPGP has been ranked 33rd in the Global MBA Ranking 2019 by Financial Times

It was on 35th in 2018

It was on 49th in 2017

Three-year average rank is 39

No. 1 in India in NIRF ranking 2019 in management category
What is PGPEM at IIM B?
As per the B-School, the PGPEM is a weekend program, designed for working mid-level and senior executives with a minimum of four years of work experience after graduation. Launched in 1998, the program is rigorous and scheduled on weekends to make it accessible to those who do not want to leave their jobs while pursuing a master's degree.
The purpose of the program is to complement the excellent functional knowledge and experience that participants possess in contemporary management knowledge, thereby preparing them to manage greater responsibilities in a liberalized and globalized economy. 
Students are provided a strong grounding in general management through the core courses in the first year and ample opportunity to acquire specialized knowledge through a rich choice of electives in the second year.  A unique feature of this program is that students can choose not only from the electives that are offered by the PGPEM but also from the other degree-granting programs at IIMB. 
The on-campus classes for the PGPEM are offered over the weekends, allowing students the opportunity to pursue a quality management program without compromising on their fulltime jobs. The PGPEM also provides participants opportunities to go on full-term exchange programs with IIMB's international partner institutions.
Class profile
Number of students: 76

Male female ratio: 31:7

Average GMAT Score: 653

Average Age: 35
Eligibility
As per the B-School, eligibility criteria are as follows:
Bachelor's degree (minimum 50%) in any discipline as per the 10+2+3 norms.

Minimum of 4 years of work experience in any industry after the Bachelor's degree.
Admission & Selection process
As per the B-School, the selection process for PGPEM is as follows:
Submission of application with one of the following tests: CAT / GRE / GMAT/ IIMB Test

Followed by a personal interview and written ability test for shortlisted candidates.

Shortlisting for interview based on performance in CAT / GMAT / GRE / IIMB Test, prior academic performance, and duration of work experience

Final selection is based on prior academic performance, duration of work experience, quality of work experience, and performance in the interview and the Writing Ability Test
The application form for admission to PGPEM 2019, will be available on the official website of IIM B.
Interview Process

Applicants will be shortlisted based on their performance in CAT / GMAT / GRE / IIMB Test, as
chosen by the candidate, prior academic performance, and duration of work experience.
Shortlisted candidates will be called for a Personal Interview and a Writing Ability Test. The
interview panel will consist of two faculty members of IIMB and an IIMB alumnus. The interview panel will evaluate each candidate's performance on the basis of the quality of experience/diversity, leadership qualities, social sensitivity, and multifacetedness.
At the time of the interview, candidates will be required to produce letters of approval from their employers, indicating that they are permitted to pursue the program. Final selection will be made based on the prior academic performance, duration of work experience, quality of work experience, and performance in the interview and the Writing Ability Test.
Dates and Deadlines
| | |
| --- | --- |
| Application Window | August 23, 2019 to January 16, 2020 (5:00 p.m.) |
| IIMB Test | February 02, 2020 |
| Interviews# | February 22 & 23, 2020* |
| Interview Cities | Bengaluru |
| Offers & Waitlist | March 09, 2020* |
| Offer acceptance – Last date | March 20, 2020* |
| Withdrawal – Last date | March 25, 2020* |
Note:
# Only those candidates who have been shortlisted will be intimated by e-mail, with all details.
* These dates are tentative and are subject to change if required.
Fees Details
PGPEM 2019-2021: The tuition fee for PGPEM 2019-21 is as follows:
| | |
| --- | --- |
| Particulars | Amount (INR) |
| | |
| Refundable Caution Deposit | |
Note: The fee is subject to revision for PGPEM 2019. Taxes and levies will be payable by the student, as applicable to the fees, at that time.
The fee is payable in 8 installments. (Details will be shared with registered students).

If a student needs to continue beyond two academic years (subject to a maximum of five years), to meet the credit requirements, she/he has to pay a continuation fee of INR 25,000/-per term for each term beyond the two-year term, until she/he completes the credit requirements of the program. The continuation fee per term is payable, irrespective of whether a participant takes courses in a term or not.

IIMB provides scholarships for deserving students. In addition, banks and other financial institutes also provide loans facility.
Course Structure
The PGPEM has four terms of three months each in an academic year. The PGPEM specific courses are scheduled on Fridays and Saturdays. In the second year, students with flexible work schedules may also choose to enroll in elective courses offered across other Post Graduate Programmes in the institute between Monday to Saturday. Each student is expected to complete the required 750 contact hours of the program, within a maximum of five academic years.
Courses and Credits
The Institute uses the concept of credits to define the weightage of a course for both core and elective courses. Each course is typical of three credits. The thumb rule is that a three-credit course involves about 100 hours of work – 30% in the classroom and the rest for preparation and assignments. Core courses are offered during the first year.  Elective courses are offered during the second year.
The course pedagogy includes classroom lectures, collaborative discussions, online (broadcast) sessions, case analyses, individual and group projects, role plays, live projects and business games.
Live Projects
The 3-credit project course (on a conceptual problem or an industry analysis) is an essential part of the program that offers students the opportunity to specialize in an area where a formal elective may not be offered.
Action Learning Project (ALP)
Action Learning Project encourages students to take up a turnkey project from within the company, analyze it and make recommendations.
Placement
N/A
Got a comment, question or input? Share it below!
Latest news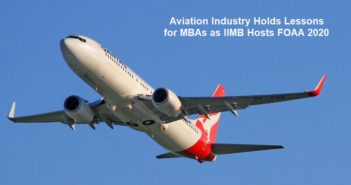 The International Conference on Future of Aviation & Aerospace (FOAA 2020) conference hosted by IIM Bangalore and Bangalore International Airport…