One Year MBA / Executive Post Graduate Diploma in international Business at IIFT Delhi
Name of the B-School: Indian Institute of Foreign Trade (IIFT) Delhi
Name of the program: One Year Executive Post Graduate Diploma in International Business (EPGDIB)
Course overview
Course Duration: 18 Months

Course Format: Full Time, residential

Course Start date: September 2020

Location: New Delhi
Accreditation
Indian institute of foreign trade (IIFT) is a member of the following International organizations:
Association to Advance Collegiate Schools of Business (AACSB)

Academy of International Business (AIB)

European Foundation For Management Development (EFMD), Brussels

International Association of Trade Training Organisations (IATTO), UK
What is EPGDIB at IIFT Delhi?
As per the B-School, EPGDIB is a specialized Program that provides a scientific approach to business decision-making in todays dynamic and competitive international business environment.  EPGDIB provides an opportunity for middle and senior level executives to refresh and upgrade their managerial skills without interrupting their professional activities.  The EPGDIB Program is specially designed to cater to those executives for whom leaving the job and the city is not a feasible option. Student is awarded the Post Graduate Diploma on successful completion of evaluation process.
Class profile
N/A
Eligibility
Candidates who wish to apply for the exam must check the IIFT 2019 eligibility criteria first. Here are the complete eligibility criteria for IIFT exam for this year.
1. General category candidates with a minimum 3-year graduation degree in any discipline with 50% marks from a recognised university/institute/college are eligible to apply.
2. SC, ST and PWD category candidates with minimum 45% marks in graduation are eligible to apply.
3. Final year graduation students can also apply. However, they would need to submit the proof of requisite qualification by October 7, 2019.
4. Foreign nationals and NRIs can apply for IIFT entrance exam with a valid GMAT score which is not older than January 1, 2018.
5. Candidates of any age can apply for IIFT entrance exam
Selection process
Selection will be on the basis of GD, Essay writing and Interview.

 Seats are reserved for SC/ST/PH/OBC (Non Creamy Layer) candidates as per Government of India rules.
Admission Process 2019-20 Batch
Release of advertisement/Availability of Brochure and application form on IIFT's website i.e.www.iift.edu : MAY / JUNE
Last date for sale and receipt of applications: FIRST WEEK OF JULY
GD/ Essay Writing/ Interview: JULRY/AUGUST
Commencement of the Programme: SEPTEMBER
Fees Structure
As per the B-School, fee for 2019-20 batch as per the B-School
The fee for the program is Rs 5,10,000/- (including alumni charges). The participants are responsible for the payment of the program fee whether it is paid by the individual or by the employing organization. Fee is to be paid in three installments as follows by candidate who have been offered admission in EPGDIB (On-campus)
First installment payable latest by 15th June, 2019 : Rs 2,10,000/-

Second installment payable latest by 15th January, 2020: Rs 1,50,000/-

Third installment payable by 30th May, 2020: Rs 1,50,000/-
SC/ST/PWD Candidates: 50% fee concession on tuition fee.
Late Fee Fine for all students is Rs 5,000/- Per week beyond the stated deadline.

In case the fee remains unpaid for Three Weeks, from the last payable, the student will be deregistered from the program.

Re-registration charges are Rs 15,000/-.

Re-registration will have to be done within one week of de-registration.
Course Structure
The EPGDIB (On-Campus) course- curriculum is divided over three semesters. The first two semesters are common for all students. Specialization streams are available in third semester. The detailed course structure is as follows (subject to revision, if necessary):
Semester I (August 2019 to December 2019) EPGDIB
Course Title  Credits

 Accounting for Managers 3

Business Economics 3

Business Statistics 3

Fundamentals of International Management 2

Human Resource Management 2

IT Applications in Management including Applications of Artificial Intelligence 3

Macro Economics 3

Marketing Management 3
Total Credits of First Semester 22 
Semester II (January 2019 to May 2020) EPGDIB
Course Title Credits
Financial Management 3

Data Analytics 2

International Economics 3

International Marketing Management 3

International Trade Operations & Documentation 2

Strategic Management 3

Supply Chain Management 3

International Port Visit 3
Total Credits of Second Semester 22 
Specialization stream: International Business
Semester III (May 2020 to September 2020) (International Business Stream)
Core Courses
Course Title Credits
International Business Strategy 2

Trade Logistics & Global Sourcing 3
Elective Courses
Research Project 3
Select any seven of the following in addition to the courses listed above
Course Title Credits
Cross Cultural Management 2

Corporate Governance & Business Ethics 2

ERP using SAS 2

Social responsibility & Business 2

International Business Negotiations 2

Management of Strategic Alliances 2

Market Access Issues 2

Entrepreneurship 2

Online Business & E-Commerce 2

Sectoral Strategies 2

Machine Learning & Artificial Intelligence 2

Trade Analytics 2

WTO & Regional Trade Agreements 2

Managing Change & Transformation 2

Managing Change & transformation 2

Innovation Management 2
Total Credits of Third Semester 8+(2*7)=22
Specialization stream: International Marketing
Semester III (May 2020 to September 2020)
Core Courses
Course Title Credits
Channel and Distribution Management 2

Market Research 3

 Research Project 3
Elective courses
Select any Seven of the following in addition to the courses listed above
Course Title Credits
B2B Marketing 2

Customer Relationship Management 2

Digital Marketing 2

International Brand Management 2

 International Marketing Communication 2

 Luxury Marketing 2

Pricing Management 2

Sales Management 2

Services Marketing 2

Strategic Marketing 2

Consumer Behavior 2

Retail Management 2

Total Credits of Third Semester 8+(2*7)=22
Specialization stream: International Finance
Core Course
 Title Credits
Financial Modelling 2

 Bond Market Analysis 2

Investment Banking 2

Mergers & Acquisitions 2

Financial Ethics 2

Project Appraisal & Financing 2

Financing International Trade 2

Commodity Market Analysis 2

International Financial Reporting Standards (IFRS) 2

Wealth Management 2

Business Taxation 2

Derivatives & Risk Management 2

Forensic Accounting 2

Business Valuation 2

Financial Risk Management 2
Total Credits of Third Semester 8+(2*7)=22
Placement
N/A
Latest news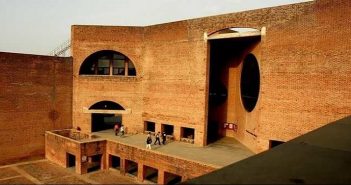 The third batch of the hybrid e-Post Graduate Program in Management (ePGP)  for working executives and entrepreneurs that combines online…