One Year MBA at Smith School of Business (Queen's University)
Name of the School Smith School of business

Name of University Queen's University

Name of the Course Full Time MBA
Course overview
Course Duration 12 Months

Course Type Full Time

Course Start Month January 2020

Course End Month December 2020

Location The Stephen J.R. Smith School of Business Goodes Hall, Room 338 Kingston, Ontario Canada K7L 3N6
Why Full-Time MBA at Smith School of business
Be among the first MBA graduates into the job market

Have more time to prepare for job interviews in the fall

Have a broader selection of international exchange opportunities

Be able to offer employers flexibility in your starting date

Gain hands on experience with project based opportunities

Be able to take advantage of 16-month dual degree opportunities
Full Time MBA Class profile 2020
Students:            80

Average Age:     28

Males:                  63%

Females:              37%

Nationalities represented: 11

Average GMAT Score: 650

Average work experience: 4.2

Academic background: Business, Arts, Science, Maths, Economics, Engineering, humanities, technology, Social Science, Health care and more.
Eligibility Criteria and other requirements
As per the B-School, admission to this program is highly competitive. Simply meeting the admission requirements does not guarantee acceptance into the program.
They are seeking exceptionally motivated candidates who have demonstrated:
academic excellence

career progression (i.e. increased responsibility with each successive position)

leadership or leadership potential

integrity and a strong sense of ethics

superior communication and interpersonal skills

ability to work well in a team environment
Successful applicants will meet the following minimum requirements:
Undergraduate Education
The B-School requires that candidates possess a four-year undergraduate degree from a recognized university. They recognize, however, that some universities only award three-year degrees, and therefore the Admissions Committee will make a determination on the suitability of the undergraduate degree when assessing a candidate's complete admission file. Successful candidates will typically possess a minimum B+ average (roughly equivalent to 75%) in the final two years of their undergraduate program.
All international students with international degrees (outside of North America) must submit a WES Credential Evaluation assessment of their degree in order to be considered for the Full-time MBA program. Please note that we will accept copies of the assessment; however, will also require original degree documentation sent directly from the University that the degree was conferred. 
Work Experience
While most candidates possess a minimum of two years' work experience,they will consider applications from exceptional candidates with less than two years of experience. Co-op placements and post-doctoral fellowships are also given consideration.
References
Two professional references from current or previous supervisors; however, one could also include a client or mentor.
GMAT or GRE Score
The Full-time MBA requires the GMAT score to be eligible for admissions, however, in special circumstances they will consider the GRE in combination with a strong profile. If you are seeking to work in the Finance or Consulting industry post MBA, you may be required to provide your GMAT score to a prospective employer. Therefore, it is highly recommend that you thoroughly prepare for and write the GMAT.Most students have GMAT scores in excess of 600. 
If you choose to take the GRE, you can use the GRE Comparison Table for Business Schools to calculate your equivalent GMAT score. The competitive recommendation is to have a GRE score of 315+ on the combined verbal and quantitative section.
Please send your official GMAT or GRE score, as your file will not be reviewed until the B-School receives it. They cannot accept photocopies or faxed score reports. GMAT and GRE scores are valid if written within the last five years. You may arrange to have the official results sent directly from the testing service organization. You will not be penalized for having written either test on multiple occasions, as they take the highest score not necessarily the most recent.
Official score can be sent to Smith School of Business under the program name the Full-time MBA using the following test codes:
GMAT: Q21-QZ-68

GRE: 4170
English Proficiency Test
When applicable, an acceptable score on one of the approved English facility tests (TOEFL, IELTS, PTE or MELAB).
The Full-time MBA is an intensive 12-month program. Each student must be able to synthesize large amounts of verbal and written information efficiently; review, comprehend and critique abundant readings; command leadership of their team when required; engage in classroom discussions and presentations; and author team assignments. Consequently, all candidates must possess exceptional English facility and communication skill level in order to be competitive for admission.
Application Process
As per the B-School, your Application Advisor will work with you to ensure that your application is not only complete, but presents you and your qualifications in the best possible light.
Step One: Preliminary Assessment
Application Advisors will work with you through every step of the application process. Begin your preliminary assessment by completing the online application form and attaching a scanned copy of resume and your transcripts (if available).
An Application Advisor will review and contact you (normally within 2-3 business days) and suggest helpful ways to strengthen your file. To speak with an Application Advisor, call toll-free 1.844.533.1651 or use the Chat function at the top of this page.
Step Two: Complete your Application file
Your Application Advisor will ensure your completed file includes:
Application Form: to be completed online
Resume: Acurrent resume that includes academic experience, work experience, memberships in professional associations, and volunteer and community activities.
Official Transcripts: An official transcript from each post-secondary institution you have attended. (Please note: All international students with international degrees (outside of North America) must submit a WES Credential Evaluation assessment of their degree in order to be considered for the Full-time MBA program. Please note that we will accept copies of the assessment; however, will also require original degree documentation sent directly from the University that the degree was conferred.)
GMAT or GRE Score: official test results
(Please note: If you are seeking to work in the Finance or Consulting industry post MBA, you may be required to provide your GMAT score to a prospective employer. Therefore, we highly recommend that you thoroughly prepare for and write the GMAT.)
English Proficiency Test: official test results (if applicable)
Cover Letter: a cover letter outlining current responsibilities and assignments, career accomplishments, reasons for applying to the Full-time MBA and your professional and personal goals.
Two References: References will be provided a link by your Application Advisor.
Two Video Questions and One Written Response: Your Application Advisor will provide you with a link to the KIRA Platform for you to complete these questions. You will be asked 3 random questions which are designed to be answered without advanced preparation allowing the Admissions Committee to get to know you in a real time sense; highlighting how quickly and concisely you can formulate an answer.
Personal Interview: An interview with members of the Admissions Committee, either in person or by Skype, upon completion of your application is compulsory for all applicants that meet our minimum requirements and have gone through our preliminary assessment.
*Applicants will be evaluated on the depth of their work experience, academic background and management/leadership skills.
There is no application fee for the Full-time MBA. Admission to the program is competitive. Applicants are encouraged to apply early, as space is and academic scholarships are limited. Applications are reviewed immediately upon receipt of completed files and admission decisions are rendered as soon as reference checks are completed.
Please send original transcripts to:
Full-time MBA, Admissions Committee
Smith School of Business
Goodes Hall, Queen's University, Room 330
Kingston, Ontario
Canada K7L 3N6
We hold all application materials in complete confidence.
International Students
As per the B-School, all international students (not including Permanent Residents) are required to obtain a Canadian Study Permit in order to study in Canada and complete the Full-time MBA program. Students may apply for this Permit once they have received an offer of admission from Smith School of Business. Depending on your country of citizenship you may also be required to have a Temporary Resident Visa to enter Canada. You should begin the application process as soon as you receive your offer of admission from Smith.
To determine your student visa requirements and to apply for a student visa go to Citizenship and Immigration Canada.
Note: Acceptance into the Full-time MBA does not guarantee nor imply acceptance of your application for a study permit. You should not take any final steps, such as moving to Canada, purchasing plane tickets, or quitting your job, until your Study Permit is approved.
Application Advice
Each candidate's file will be considered in its entirety. Consideration will be given to previous academic performance, work experience, letters of reference, and your GMAT score. If you fall a little short on one parameter, but are strong on the others, you may well be a qualified candidate for this program.
The next class starts in January 2020. Applications are currently being accepted online. Applications are reviewed on an ongoing basis until we have selected the optimum class members.
Once you submit the online portion of your MBA application, we will contact you by e-mail to advise you on what is needed to complete your application.
Fee Structure
The Full-time MBA program fee includes program enrollment; all books, case materials and other instructional supplies; academic events like case competitions; and career related non-academic events, including executive coaching.
An initial deposit is required at the time of enrollment. The balance of the fee is paid in three installments during the program.
Fee Schedule (Class starting January, 2020)
| Payment Type | Due Date | National Student | International Student |
| --- | --- | --- | --- |
| Deposit | Upon Acceptance | $6000 | $6000 |
| First Installment | 15 Jan 2020 | $21666 | $25666 |
| Second Installment | 01 May 2020 | $27667 | $31667 |
| Third Installment | 01 Sep 2020 | $27667 | $31667 |
| Total | | 83000 CAD$** | 95000 CAD** |
*non-refundable
**Additionally, all students are required to pay Student Activity Fees of approximately $1500.00. These fees are assessed at the beginning of the program. International students will also be required to purchase the University Health Insurance Plan (UHIP) if they cannot provide evidence of equivalent coverage.
All Queen's University students are also required to pay The Student Assistance Levy. This will be approximately $100 for the year.
A person is classified as a Domestic Student if they have Canadian citizenship, landed immigrant status, permanent resident status or dual Canadian citizenship.
Fees are subject to final approval from the Queen's Board of Trustees.
Course Structure
The Foundations curriculum is comprised of 13 courses plus an integrative project that runs through the entire six months.
Core Courses 
Business Analytics

Business and Corporate Strategy

Business, Government and the Global Economy

Economics and Industry Analysis

Finance Fundamentals

Financial Accounting

Introduction to Digital

Business New

Leading with Integrity

Managing Human Capital

Marketing Fundamentals

Negotiations

Operations and Supply Chain Management

Professional Communication Skills

Integrated Team Project*
*The project based courses offer a unique opportunity to work with Small to Medium Size Enterprises (SME) and put into practice what you are learning throughout the program.
Elective Courses
Advanced Portfolio Management

Analytical Decision Making

Consulting

Consumer Focused Marketing

Corporate Valuation & Mergers and Acquisitions

Creating & Executing Market-Based Strategy

Decision-making in Competitive Environments New

Digital Execution New

Digital Transformation New

Diversity and Inclusion

in Organizations New

Dynamic Strategy Analysis New

Finance Strategy

Financial Technology & Innovation

Financing of New Ventures

Global Strategy

Management Accounting

Managing Agile Projects

New Venture Management
MASTERY LEVEL (SECOND 6 MONTHS)
As per the B-School, for the Mastery module, students complete a series of core courses and elective courses. Those who choose to pursue a specialization will earn an MBA and a Graduate Certificate in one of the following areas: Consulting, Digital Transformation, Entrepreneurship and Innovation, Finance, Management Analytics or Marketing & Sales.
Those who decide not to specialize may complete the General Management option. This option requires students to choose elective courses in a variety of different areas.
Placement Details 2018 batch
Average starting Salary: $ 110,860*

Employed within 3 months of graduation: 97%**

Average increase in salary from pre to post MBA: 48%
*including base, signing bonus, and other guaranteed compensation
**of those seeking employment
Sector-wise Detail
Finance services 37%

Consulting  28%

Technology and telecommunication 9%

Healthcare 9%

Others  17%
Function-wise Detail
Consulting 27%

Finance 24%

Management  21%

Sales 5%

Marketing & Communication 5%

Others 18%
Top Recruiters
Disney

NielsenA.T. Kearney

Accenture

Boston Consulting Group

Capgemini

Capco

Carpedia

DeloitteDuPont

Dow Chemical

GE

Honeywell
Source 1
Got a comment, question or input? Share it below!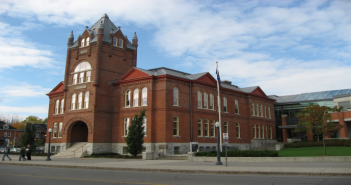 Teams from Queen's University, Canada and Singapore Management University took first place in the RSM STAR Case Competition 2017, at…