Name of the B-School: Symbiosis Institute of Management Studies

Name of the course: Executive PGDM
One Year MBA / MBA for Executives / Executive PGDM at SIMS Pune | Class Profile | Eligibility Criteria | Admission Process | Fees | Course Structure | Placements
Course overview
Course Duration: 15 Months

Course Type: Full Time residential

Course Start date: N/A

Location: Pune, Maharashtra
Accreditation
N/A
Rankings
N/A
About SIMS
According to their official website, SIMS, a management institute is a constituent of Symbiosis International University, set up in 1993. SIMS is one of the B-Schools in India including some IIMs which have been conducting a full-time Executive Post Graduate Diploma in Management (Executive PGDM) for the last several years.
What is executive PGDM at SIMS?
As per the B-School, Executive Post Graduate Diploma in Management (Executive PGDM) is a 15 months full-time Management Programme (generally known as Fast Track MBA), which is ideal for junior and middle-level executives who need a management qualification to boost and advance their career at par with MBAs. The Program is designed on the lines of a full-time MBA, and offers specializations in Marketing, Finance, Operations and Human Resource. To provide quality management education to students through the advancement of knowledge in all business-related disciplines and the development of the ethos of corporate professionalism in student managers.
Why Executive PGDM at SIMS?
According to the B-School, they provide an opportunity to take Marketing, Finance, Operations and Human Resource as specializations in its Executive PGDM unlike other institutes which offer only General Executive PGDM. This offers a perfect opportunity to switch careers.SIMS through its curriculum and pedagogy develops leaders, managers and entrepreneurs ready for any challenging role. Alumni of this course are now in very senior positions in many top MNC's and Indian companies.
Class profile 2019-20
Batch Size 25

Male 15

Female 10

Average Age 30

Average Work Experience 7 Years
Specialization
Finance 8

Operations 7

HR 6

Marketing 4
Eligibility
As per the B-School, eligibility criteria are as follows:
Bachelor's Degree from any Statutory/recognized University with a minimum of 50% marks 

Minimum of five years' work experience (after Graduation)
Admission Process
Interested students can apply online. The application link is available on the official website of SIMS.
Selection process
Personal Interaction
Dates and deadlines
N/A
Fee & Scholarship
The fee for Executive PGDM is INR 5,50,000.
Course Structure
According to the B-School, the Executive PGDM course curriculum is divided into three semesters (15 months). First two semesters consist of compulsory & specialization courses. The third semester will consist of Live Project. Students will have to opt for any one specialization from Finance, Human Resource, Marketing and Operations which will remain constant for both the semesters.
Placement (2019 Batch)
According to the B-School, they have an enviable placement record and it offers an excellent return on investment in terms of the placement packages. SIMS Executive PGDM Alumni are working in top companies such as Deloitte, Infosys, TCS, ICICI Bank, HDFC Bank, Barclays, GE, Tata Motors, Sify Technologies, Reliance Jio, Bank of America, Jana Small Finance Bank etc.
Placement Statistics
Highest Salary    16 LPA

Average Salary  8.6 LPA

Median Salary   8.2 LPA
Source 1
Got a comment, question or input? Share it below!
Latest news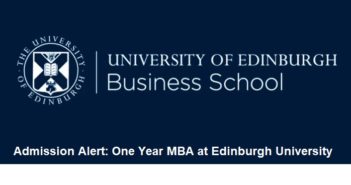 Admission is open for the one-year full-time MBA September 2020 intake at the University of Edinburgh Business School with the…