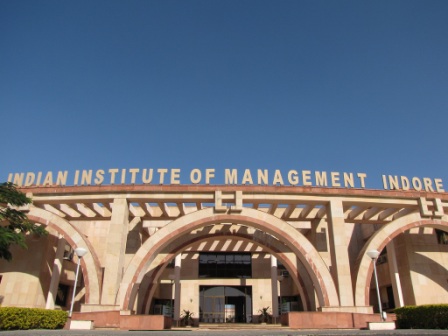 Get into IIM Indore's One year MBA without taking the GMAT
13
Without burning the midnight oil to crack the GMAT, sample life at IIM Indore's One year MBA (EPGP) with Joydeep Bhattacharya as he gives us an account of his first week at the business school. Joydeep joined the course on 16th September, 2013.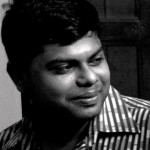 With this we kick-start our new series – First week inside a One year MBA which will bring you a sneak peak of life inside One year MBA courses around the world. 
A bit about Joydeep – Joydeep has more than seven years of work experience working with companies such as ITC, Voith and Siemens and last held the position of Package Manager – Materials at Siemens. Joydeep is a B.E in Mechanical Engineering from NIT Durgapur. (Photo credits – Manisha Singh. Images are for representation purpose only)
16th September, Monday, 1:30 am
Still in the train. I am struggling to take a nap, but a strange state of mind has kept me awake. There are mixed feelings
of excitement on joining a premier institute, nervousness of facing the rigor of a One year PGP course and eagerness to explore new fields of knowledge. After all it is IIM Indore I am heading towards.
It can be difficult to leave your job after seven years of work life. But when its a call from IIM Indore's EPGP course, the decision is a cake walk.
16th September, Monday, 5:30 am
One can see the 'open face of heaven' here – yes thats how it feels inside the IIM Indore campus. After the
security check I have entered the campus which is full of greenery and a bit of hilly terrain. As one rides up 'the hill' as the locals refer to the campus, one can see for miles all around.
The cab is moving at a moderate speed; soon I will reach the hostel.
16th September, Monday, 6:00 am
Oh My God!! Is this a hostel room? It looks like a room in a good hotel. Hmm….feeling like a 'sahib' even after leaving the job. A well maintained, AC room with a some basic furniture and attached bath – surely more than enough to meet the needs of a student.
However, I need to get ready. After all, it's registration day.
16th September, Monday, 11:45 pm
The transition from I to we…
Perhaps it was an instantaneous event when we the batch mates of IIM Indore EPGP 2013-14, met for the first
time at the hostel foyer for the registration. It was an awkwardly pleasant experience to explain engineering
design to a candidate from the tourism industry or to nod emphatically to confirm that I have followed what the IT guy has just explained about a testing procedure. This is an all new experience of learning through sharing of diverse experiences.
The registration process started with filling of forms and checking of documents. In between there was inaugural
speech from the Chair followed by self introduction of the students. After that the registration continued
and we got a chance to know each other better.
It was really exciting to meet people from various back ground. And excitement gets multiplied when it
happens over a delicious dinner. Hmm..the food is awesome here. Now it's time for a sound sleep. The weather is really pleasant. So, the AC won't be needed.
17th September, Tuesday, 11:30 pm
The experience of being back in the classroom after spending several years in corporate world feels amazing.
Reaching the classroom in a group, attending classes, fighting to stay awake with the fear of getting caught unprepared by the Professor lingering at the back of our consciousness, trying to remember old theories and formulas and coming with naught – its all new and surprisingly fun.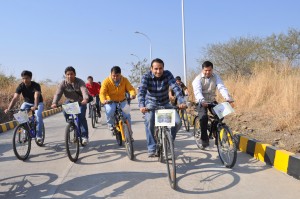 The professors at IIM Indore seem to have in depth knowledge on their subject and are encouraging interaction in the class. There are marks for 'class participation' so I better put down the pen and raise my hand.
There was a surprise awaiting us in the evening. Two-wheelers are not allowed on the campus! The college instead has a pool of bicycles! A small group had a ride down to the main gate and back…. hell of a lot of work out for the day. Did I share the campus is called the 'hill'?
Had a good dinner and it's time for sleep. Life is beautiful here.
18th September, Wednesday, 11:15 pm
Just had an insight…the MBA is a great opportunity to learn new management theories. But it is an even bigger to opportunity to relate real life experience with the theory taught in class. It is a testimony to the success of the course design and excellence of the faculty that we the students are being encouraged to relate our experience from work life with the case studies given in class. Theory meets practical experience.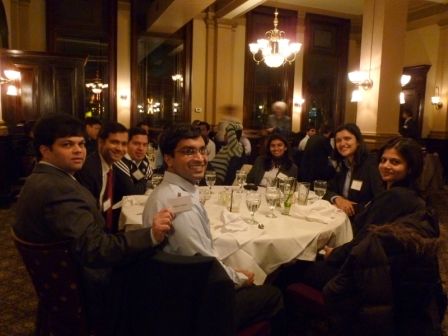 Turns out the course is also a wonderful opportunity to learn not just from the faculty, but from other students in class too. Herein lies the beauty of a One year full time MBA programme. The class has close to 400 years of collective work experience in the class – that is 3.5 Million hours of your typical 9 to 5 available to each one us to learn from!
Just now, I have had a look into the class schedule for tomorrow. It doesn't look so horrifying….where's the
rigor? People just make stories.
20th September, Friday, 1:45 am
Oh boy…was I mistaken. The schedule may look simple, but you don't know what awaits you during that scheduled time. And eventually the schedule also gets complex. It is not just learning the academic aspects of business, it is also about training the mind.
By the time we could finish the 'home work' Thursday was already gone. After many frantic discussions working in groups, we are still not sure whether we have arrived at the solution or was it just 'much ado about nothing'.
Today I have got a jarred state of mind and I find my self asking "what is management? Is it defining psychology in a mathematical way or solving mathematics from psychological viewpoint?…Whatever it may be…it is mind boggling.
Naah…mind has gone crooked. I can't explain what I want to…..but..I need to sleep.
   20th September, Saturday, 2:30 am
I am in love with the college. The facilities available here are just awesome. Today, after the college we went to the nearest market. IIM Indore has a bus service. Buses start at regular interval from the campus for the railway station (I don't know yet whether that's the only destination).
However, there was a devil waiting for us back in college. The question posed in the home task looked so simple that
we didn't give it too much attention. But it proved to be a monster. I am sad to report that unlike the heroes in Amar Chitra Katha and Hollywood movies, it was the monster that won the day.
To celebrate the failure we visited the night cafe – a refuge for the battle weary where you will find many nursing a drink – everything from tea and coffee to coke is available 🙂
Tomorrow again we are going to be struggling throughout the day. Let's hope we get a decent Sunday (to sleep).
21th September, Saturday, 11:30 pm
After graduation, I am gonna make a movie on the course structure called 'Catch me if you can'. You go to the class burdened, get shamed in class for carrying the wrong burden and come back over burdened. The dreams of getting a free Sunday are shattered…and I am tired no end.
Suddenly I am reminded of the ad line we discussed in class yesterday – 'Just do it'. Inspired, I hit the sack without further ado. Snore!!!