A software developer and production support engineer in Tata Consultancy Services, I  had enrolled in IIM Lucknow's one-year MBA program, MBAEx (then known as IPMX) in 2015.
At that time, I had 6 years of experience at TCS having worked for multiple banking and financial services global clients. I also had stints offshore and onsite in South Africa in a client-facing role.
Journey to IIM L MBAEx And How It Led to A Career Change
Contemplating a Change
Having garnered experience in both the models in the IT industry and writing several lines of code, I realized that my role had only a small impact on the organization and clients. I not only wanted to move up the career ladder but also to have a bigger impact through my work profile.
Having zeroed in on the role of a Business Consultant advising clients on improving top and bottom line, I started building my Linkedin network and reaching out to people who were working in top consulting firms such as EY, PwC, KPMG, Deloitte and Accenture.
Though the MBA was not on the cards, the people whom I reached out to suggested that the lack of the degree could be an entry barrier for such roles.
It was at this inflexion point when I thought of enrolling in an MBA program. While shortlisting the options, I found that in India, most MBA aspirants prefer the 2-year PGP from the IIMs.
Why I Chose MBAEx
However, I felt that the PGP class consists mostly of either fresh graduates or people with entry-level work experience. Moreover, I was keen to learn from a rich peer group and considering the average work experience of the 2-year PGP cohort was on a lower side, I started evaluating MBAEx programs.
OneYearMBA.co.in came to my rescue since it has rich articles on these programs that enabled me to evaluate the options.
Since most of the information was on the B-schools' websites, I was not sure which independent third-party website or source of information I should consider evaluating these programs from the IIMs. I found the website OneYearMBA.co.in very useful in my decision making.
Building Soft Skills
I completed MBAEx in 2016 and worked in multiple organizations and setups. While MBAEx enhances one's business knowledge and alumni network, it also helps build soft skills such as communication, teamwork, and leadership through a peer group, alumni support and professors.
The entire journey helped me sharpen the knowledge, skills and attitude through the rich pedagogy, alumni interactions, peer learning, and industrial exposure. I had a rich class consisting of different people coming from different industries/roles and I had the least experience among all. So, it gave me a fantastic opportunity to learn from the peer group.
A Little Help From My Friends
Today, whenever I am stuck in some domain, I reach out to my peers, alums, and professors. 
One such instance was when I was a Product Manager for Ernst & Young (EY) and was stuck on "Accounting in Loyalty Points". My classmate, who is a Charted Accountant and my Finance Professor helped me to understand the concept and apply the solution.
I started to build my network in the domain of business consulting. On the advice of my network, I assisted people in research projects for hands-on learning. Moreover, I started pro-bono admission consulting by the name of "AppHelpIIM" within three months of starting the MBAEx program.
The network of the right people, certain courses on communication, operations, and strategy and the peer group were the key ingredients in my career transformation.
My Post-MBA Career Progress
Post MBAEx, I have worked in a KPO, two IT giants and a Big 4 consulting firm in a multitude of roles. Being part of eClerx (KPO), I led automation transformation programs leveraging intelligent automation that directly led to cost savings for leading investment banks.
At L&T Infotech, I was part of digital consulting services advising clients on digital transformation leveraging cutting edge technologies including AI, Analytics, RPA, and Blockchain.
At EY, I bootstrapped the blockchain practice and helped the organization and its clients in their blockchain journeys from ideation to realization thereby impacting the P&L of clients. I also acted as a product manager, wherein I conceptualized the first of its kind loyalty solution on the blockchain that saw huge traction in global markets.
At present, I work in Tech Mahindra advising my clients on leveraging blockchain technology for business model transformation, revenue generation, and cost optimization. I consider my career post-MBAEx as a giant leap in terms of responsibilities, accountability and the impact that I could make to these organizations.
This is what I visualized as my Post MBA role. The role keeps me excited and I look forward to each day. I still recollect one of my peers telling me to "Think big and do what you like and salary and other emoluments will chase you after some time."
Although my main objective in enrolling for an MBA was not income, the 150% increase in my earning compared to my pre-MBA salary came as a big boost along with the role change.
Saurabh is an MBAEx (Erstwhile IPMX) from IIM-Lucknow. He has 10+ years of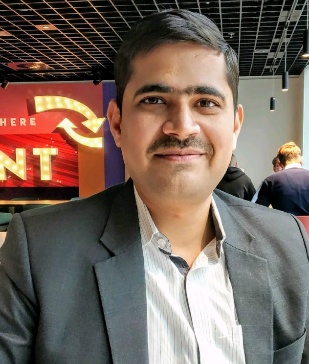 experience in Banking & Financial Services, Insurance, Telecom, & Government domains. He has worked in global organizations including Tata Consultancy Services, eClerx, Larsen & Toubro Infotech, Ernst & Young, & Tech Mahindra. He acted as a mentor and speaker at various hackathons, events, and B-schools.