Indian Institute of Management, Bangalore (IIM B) launched the sixth batch of its MBA programme, the one year full time EPGP in a ceremony held on campus on April 2, 2014. Rajiv C Mody, Chairman and Managing Director of Sasken Communication Technologies delivered the keynote adress and urged the batch to move out of their comfort zone and focus on developing new skills.  
The 6th batch of the One year full time MBA was welcomed to the IIM B campus in a ceremony held on campus on April 2, 2014.
"The future generation should develop accountability leadership and uphold integrity as a key driving factor of an organization," said Rajiv C Mody, Chairman and Managing Director of Sasken Communication Technologies, at the inauguration of the sixth batch of the one year, full time residential Executive Post Graduate Programme in Management at the Indian Institute of Management Bangalore on Wednesday, April 2.
Cover photo: Professor Devanath Tirupati, Director In-charge and Dean Academic, IIMB, welcomes chief guest Rajeev Mody, Chairman and Managing Director, Sasken Communication Technologies, to the inauguration
In his key note address, Mody touched upon three key aspects – Technology, Intellectual Integrity, and Ethics and Governance. Remarking that new innovation and concepts were the way forward, he called upon new entrants to the Executive Post Graduate Programme (EPGP) to explore different domains in this one-year programme. "Move out of your comfort zone, channelize your energy on developing new skills and establish new connections," he exhorted them. Describing 'Command and Control' leadership as defunct, he called for 'Integrated and Involved' leadership skills. A combination of a task-oriented approach and a people-oriented approach is the futuristic way, and so is the skill of questioning.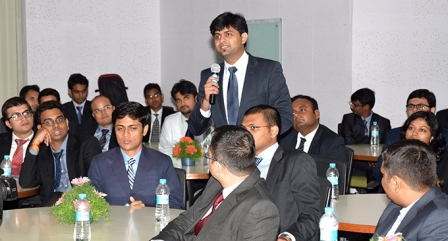 "A sense of paranoia is necessary in the practicing field to succeed; a cocoon gets you nowhere," he declared. Fear, he said, was what drove the founding team to convert a start-up into an established organization – Sasken. Hastening to add that 'good fear' is a positive emotion, he cautioned his audience against succumbing to the fear of failure or what he described as 'negative fear'.
On the subject of technology-led transformation, he dwelt on how mobile apps had changed the way we think, live and do business and urged the incoming batch of students to gear up to "inconceivable concepts and creative styles of work".
Professor Devanath Tirupati, Director In-charge and Dean Academic, IIMB, said: "EPGP is a unique programme which brings managers with significant work experience to the IIMB campus; managers who then benefit from IIMB's rich educational resources and equip themselves for leadership positions. The EPGP programme has evolved significantly over the last five years. The focus on emerging markets is a distinctive feature of the programme, which contributes to the students being able to confidently operate in a global environment."  He went on to offer an overview of the entrepreneurial and innovation centre, NSRCEL at IIMB, to the new batch.
Murali Manohar, who has worked in a top Consultancy firm before signing up for the Executive Post Graduate Programme this year, said: "This programme will give me ample opportunity to network, gain the right perspectives on concepts and manage my business and my clients."
Lakshmi Rani, from an IT major, said she had chosen to join the EPGP at IIMB to explore diverse sectors and hone her management skills.
For Neha Kapoor, who worked as lead software designer at a multi-national bank, the one year, full-time programme could kick start her career in finance.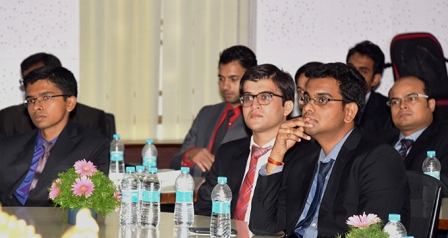 Professor G Shainesh, Chairperson, EPGP, said: "The EPGP is an incredibly demanding programme. It represents a huge investment in time, in intellectual energy and in family upheaval. The people who enter the programme are ambitious risk-takers. They are looking to challenge themselves, to add academic rigor to their existing experience, to renew themselves, not just to support career change."
The commencement of the sixth batch of EPGP starts on a positive note with very good placement results for students of the fifth batch of EPGP, who recently graduated, with 90% of the students placed by Convocation Day (March 27). The positions offered and the compensation levels were strong with some students achieving compensation packages benchmarked to international levels, proving that the challenging and globally-oriented programme equips students to take up responsible positions at senior management levels.
Earlier in the day, Professor M Jayadev, Chairperson, Admissions & Financial Aid, IIM Bangalore, welcomed the students to the programme and provided a brief profile of the new batch:
Class profile – One year MBA (EPGP) Class of 2015