One Year MBA / Executive PGDM at KJ Somaiya Institute  of Management Research and Studies
Name of the B-School: K. J. Somaiya Institute of Management Studies and Research (KJ SIMSR)
Name of the course: One Year Post Graduate Diploma In Management (EPGDM)
Course overview
Course Duration: 15 Months

Course Format: Full Time, Residential

Course Start date: Sept 2020

Location: Mumbai, India
Accreditation
KJ Somaiya institute of management research and studies (KJSIMSR) is NBA accredited
What is One Year MBA / PGDM Executive at K J Somaiya?
According to the B-School, the PGDM executive program is exclusively designed for working professionals and entrepreneurs who are hungry to learn and wish to transform themselves according to the changing nature of their industry or business. With this course, they can climb up the career ladder faster in-sync of today's situation in the industry. It provides them with an opportunity to upgrade their knowledge and become more relevant in today's time. It is designed with a flexibility to accommodate the timings of working professionals. According to their time, the students can work and engage with the course to gain perspective and knowledge of the recent times. They are encouraged to collaborate and share their experience and knowledge with the faculty and peers. This PGDM course offers them a platform to enhance their skills and develop new skills to excel in their respective fields.
Why PGDM Executive at KJ Somaiya?
Decision Making
Enhance more effective decision making at the General Management level to give you increased confidence to take on challenging roles and Develop an intense understanding of "Value Management"
Holistic Development
Development of a holistic personality on the basis of varied leadership attributes. Also, develop an understanding of strategy process as an optimal fit between the firm and its environment
Placements
There is a dedicated Placement Cell within SIMSR consisting of professional managers and students that will provide assistance to the students in placements in appropriate organizations. Some of the organizations who recruit from our campus are Polaris UK, Accenture, PwC, Target Inc, etc.
Market-Attuned Pedagogy & Curriculum
In the quest to expand the horizons of a future manager, to hone their skills and develop their forte, the pedagogy and curriculum encompasses the latest advancements in the industry.
Student Faculty Ratio
SIMSR maintains a healthy Faculty-Student ratio of 1:15; the Institute has 80 core faculty members, 35 of them with Ph.Ds. 28 at various stages of completing Ph.D. More than half of the faculty have rich industry experience.
Class profile 2018-19
Number of Students: 60

Average work experience: 90.5 months

Average Age: 27 Years

64% of the class last Year was from Engineering background

9% of the batch from Science and 9% from commerce background

18% are from other academic background

Men /  Women Ratio: 73:27 
Eligibility Criteria
Students having completed a minimum of three year graduate program in any discipline with minimum 50% aggregate marks from any University, recognized by Association of Indian Universities (AIU) / AICTE, are eligible to apply for the Post Graduate Diploma in Management (PGDM-Executive) program. Students having completed 5 years of work experience (after graduation) are eligible to apply for PGDM – Executive program.
Selection Parameters
Qualifying Exam 50%

Personal Interview 30%

Statement of Purpose 5%

Past Academic Records 5%

Outstanding Achievements 10%
Dates and deadlines
| Description | Date |
| --- | --- |
| Programme Commencement | 4th Sept 2019 |
| Inauguration of PGDM Executive Programme | 4th Sept 2019 |
| Online form filling & Counselling | 01st Nov 2018 to 31st July 2019 |
| PI Dates | As per the date wise schedule which will be made available on the website. PI will be ongoing via skype and Google hangouts. |
Admission Process
CAT / XAT / CMAT / GMAT
Appear for CAT 2018 / XAT 2019 / CMAT 2019 & GMAT (Valid scores of last three years are accepted for GMAT)
Statement of purpose / SOP
Candidates to fill candidate profile form & statement of Purpose (SOP)
Personal Interview / PI Process
PI process will be conducted in different cities across India. PI may also be conducted over Skype

Proposed PI centers: Ahmedabad, Bhopal, Chennai, Chandigarh, New Delhi, Bengaluru, Jaipur, Kolkata, Patna, Bhubaneswar, Hyderabad, Lucknow, Trivendrum, Guwahati, & Mumbai
Merit list declaration
Selected candidates will get an invite for admission
Final Admission
Candidates will register and pay fees
Fee Structure
Fees for 15 Months

Application Form fee

Indian Residents – 2850/-

Total Fee including




Tuition Fee

Annual Fee: 7,40,400/-




Caution Money: 10000/- (Refundable)




Total:  7,50,400/-




Alumni Membership




fee: 2500/-
Hostel Fees

Triple Sharing
Double Sharing
Single Sharing

Rent for 13 Months*

Rs. 1,62,500/-

Rs. 2,43,750/-

Rs. 4,87,500/-

Security Deposit**

Rs. 25,000/-

Rs. 25,000/-

Rs. 25,000/-

Registration Fee***

Rs. 1,000/-

Rs. 1,000/-

Rs. 1,000/-

Total

Rs. 1,88,500/-

Rs. 2,69,750/-

Rs. 5,13,500/-
Course Structure
Trimester I
Business Perspectives in the Global Context

Entrepreneurship & Managing New Ventures

Strategic Marketing Management

Financial Reporting & Accounting Standards

Cost Modeling & Strategic Cost Management

Global Supply Chain Management & Operations

People & Performance Management

Strategic Talent Management

IT for Management

Managerial Economics

Quantitative Techniques in Management

Foreign language
Workshops
Business Communication

Corporate Etiquette & Personal Branding

Written Analysis of Cases

Financial Accounting

Financial Planning & Corporate Budgeting

Training & Development
Trimester II
Business Law &Ethics

Strategic Management

Business Development

Country Analysis for Global Marketing

Corporate Finance and Valuation

Financial Markets & Institutions

Problem Definition and Data Analysis

Competencies &Performance Management

Enterprise Architecture

Economic Environment of Business

Foreign language
Workshops
Rural Marketing Immersion (Including Offsite Workshop)

Creativity & Innovation

Venture Capital Financing & Management

Winning Negotiations and Decision Making

Software Project Management (With Exposure to MS Project)

Disruptive Business Models

Presentation Skills- 30 hours – 30 minutes

Career Management-From Image to Job Conversion

Fundamentals of Banking
Trimester 3
Trimester 4
Strategic Management Simulation

Strategic Brand Management

360 Degree Integrated Marketing Communication

Investment Management

Mergers, Acquisitions & Corporate Restructuring

Big Data Analytics

Strategic Leadership & Change Management

Leadership Incubator

Cloud Computing

International Finance

Digital Project Management

Design Thinking

Foreign language

Master's thesis
Workshops
Corporate Social Responsibility (Including immersion)

Shopper's Experience Management

Enterprise Rating and Evaluation

Six Sigma

Compensation & Benefits

Information Technology Business Development IT
Trimester 5
Corporate Strategy & Implementation

Digital Marketing

Project Finance

Strategic Risk Management

Data Modeling &Decision Making

Operational excellence (TQM,BPR, Benchmarking)

HR & Management Consulting

Foreign Language

Master's thesis
Workshops
Marketing Engineering

Personnel Finance & Taxation

Advance Logistics tools

Labor Laws
Placements Data (Approx)
Average Package: 10.7 LPA

Highest Package: 15.5 LPA
Recent news about K J Somaiya Institute of Management Research and Studies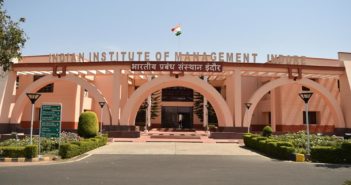 IIM Indore has partnered with TikTok to launch the first-ever course module on short-form video for better management communication, strategy,…