OneYearMBA.co.in has been all about enabling people to explore new avenues. To encourage women to scale new heights, OneYearMBA.co.in gave a leg up to a rally team fresh off the block by sponsoring their participation at the Times (of India) Women's Drive Car Rally North inaugural Delhi edition on February 29, 2020. Over 150 cars & 300 participants took part in the event.
The team members, the sister duo Richa Tandon and Bhavya Tandon, bagged the Best Social Message Award in their first car rally outing for their car decorated with balloons, tassels and messages in support of and to spread awareness about the LGBT+ community.
The chocolate-brown Honda Jazz hatchback was voted the Best Dressed Car at the event. Apart from being festooned with balloon and a huge rainbow banner on the top, It was plastered with posters on the sides with the slogan "We Stand Together" and "Long Live the Queer". The hub caps were entirely covered with the Pride sign set against a rainbow background.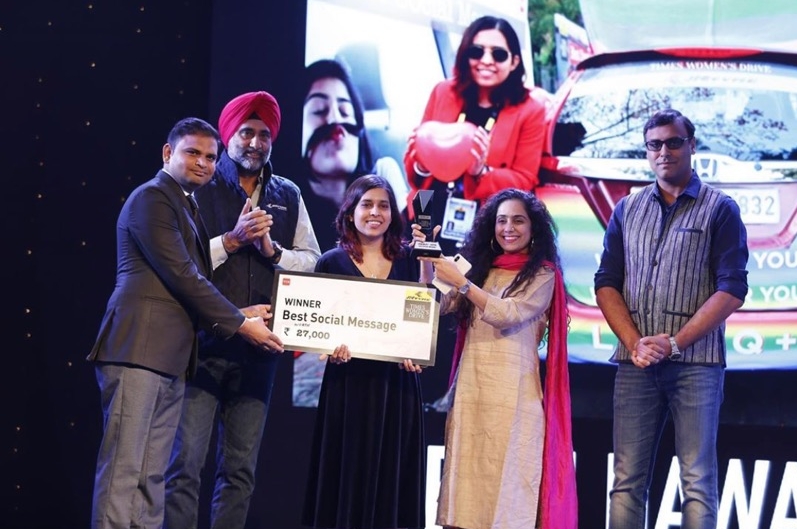 Times Women's Drive, an initiative by The Times of India Group that started in Mumbai in  2009 added a new chapter of TWD-North this year by organising a drive from New Delhi to Jaipur. It is stated to be the world's biggest All women car rally in TSD (time, speed and distance) format.
First Time Participants Richa-Bhavya's Drive to Fame
This was the first time both the girls participated in a car rally. About herself, Richa says, "I work with something that is just opposite of driving- drinking! Jokes apart, I take care of the white spirits category of a liquor giant called Radico Khaitan. I'm a post-graduate in Integrated Marketing Communications."
"Bhavya is a lawyer by profession. She has done her LLM from Edinburgh and is currently assisting the famous gay couple lawyers- Arundhati Katju and Menaka Guruswamy," she adds.
It Took Guts to Drive With LGBT Message
About the overall experience, Richa says, "It took guts for us to drive my car with this message. It also took guts for TWD North and JKTyre motorsport to give us an award for this message."
Despite changes in the colonial era laws, Lesbian, gay, bisexual and transgender (LGBT) remains a sensitive issue in India.
"We were a bit apprehensive about driving with this message on our car from Delhi to Jaipur, at the world's largest all-women car rally. However, we got an overwhelming and positive response from other participants. We got flying kisses and thumbs up from strangers on the road, the cops and the toll guys," says Richa.
"The first appreciation came at 2:30 am in the night when we were decorating the car and a car full of old uncles and aunties were driving pass by and stopped, I was a bit scared that they'd show discomfort or resentment, but they said "Wow, All the best, May the pride flag fly higher!"
"The rally was my first. My navigator was my superstar sister. Both of us sucked at Math and the rally was mostly about the precision of deriving time to cover a particular distance in, from the various distances and corresponding speed for a navigation map given by them (very different from the Google maps)," she adds.
Never Expected Any Award
The duo never expected to win any award. Richa says, "Our social message/ theme LGBTQ-We Feel for you. We Drive for you, we thought was bold but may be too controversial, but to everyone's surprise, I was proven wrong when TWD North and JKTyre motorsport awarded us with the 'best social message award' and showed their bold and gallant support to the community," she adds.
"Honestly speaking, like I said, this was our first rally and we knew that we won't be doing it to win it. But then there were other award categories we knew we could maybe win if we put genuine effort.
How the LGBTQ Theme Came UP
"Bhavya is very supportive of this community. She's done pride parades in Edinburgh before. That's how the idea came. I took charge on doing the stickers and the flag printing and all."
"Because of my hectic work schedule, I couldn't get the time to do it before, so the two of us literally did the entire decoration and all at the 11th hour- just the night before the rally. Which is not brave of us, because after sleeping for literally just 3 hours, I did feel extremely sleepy on the highway, while driving to Jaipur," she confesses.
"Overwhelming- is an understatement. The first appreciation came at 2:30 am in the night when we were decorating the car and a car full of old uncles and aunties were driving pass by and stopped, I was a bit scared that they'd show discomfort or resentment, but they said "Wow, All the best, May the pride flag fly higher!
"That gave us our first confidence. Next, when we reached Siri Fort (flag-off point) in the morning, we had all eyeballs. People were coming to our car and getting selfies clicked, unceasingly.
"And the best was when we realised that some gays were coming and appreciating, but the magic moment truly was when on the road, they were giving us flying kisses, when cops and random strangers and toll guys were doing thumbs up to show their strong support," Richa says.
The rally had about 150 cars and over 300 participants. Each car had a theme and a message. The ones that stood out were Breast cancer, Blood donation, and menstrual hygiene to name a few.
Bhavya termed the drive as "one of the most amazing experiences" she ever had. "It took us a couple of hours to decorate our car. We could hardly sleep before the rally as we were but once we were at Siri fort and we saw such positive reaction from the crowd, it was all worth it."
A lawyer by profession Bhavya had her graduation at KIIT school of law. She recently completed post-graduation in criminal law and justice from the University of Edinburgh.
"It was there where I got the chance to learn more about the LGBTQ community. And ever since my first pride parade in 2019, I want to work for the community till our society accepts them completely. It was just a small step we took, but definitely a courageous one," she adds.
Got a comment, question or input? Share it below!