ONE YEAR MBA at SDMIMD
Name of the B-School: Shri Dharmasthala Manjunatheshwara Institute of Management Development(SDMIMD)

Name of the Course: Post Graduate Certificate in Management(PGCM)
Course overview
Course Duration: 15 Months

Course Type: Full Time, Residential

Course Start date: 3rd August 2020

Location: Mysuru, Karnataka
Accreditation
Ranking
Ranked among top 10 One Year MBA programs in the Outlook B-School Survey 2018
What is One Year MBA at SDMIMD?
As per the B-School, Post Graduate Certificate in Management offered by Shri Dharmasthala Manjunatheshwara Institute for Management Development is a One-Year rigorous, demanding and relevant program for aspirants looking for career growth.
The Program is aimed at freshers, working executives, entrepreneurs & members from a family business, who have not had formal exposure to contemporary managerial tools and techniques by way of formal in-class interaction. Apart from filling this gap, it also equips managers for assuming higher responsibilities and enables them to perform more efficiently and effectively in the context of the changing domestic and international business environment.
Class profile
N/A
Eligibility Criteria
As per the B-School, eligibility criterions are as follows
Graduates from any discipline

Should have obtained at least 50% marks in Graduation

Final year students are eligible to apply

Competitive Entrance Exam with valid CAT, MAT, XAT, GMAT, KMAT, NMAT or Apply for SDMIMD Admission Test (SAT)
The SDMIMD Admission Test (SAT) online entrance test has Quantitative, Reasoning, Logical and Passage. The test has 35 questions which are to be answered in 45 minutes.
The information about the test, date, time and necessary instructions will reach you by email after registration.
Application Process
As per the B-School, Application for the business-school program is a chance to demonstrate your level of familiarity with management education and to present the personality, strengths, and resources to the selection committee. You need to be aware of all aspects of the application need to reflect this understanding.
Intake for the one-year PGCM Program is 30

The application form for PGCM 2020-21 is available at https://sdmimd.ac.in/pgcm/application/online.html

Application Fee Rs.500/- to be paid online while submitting the application

Visit http://sdmimd.ac.in/onlinepayment for online payment
Selection process
The selection process includes scrutinizing the filled application and the Personal Interview (PI) conducted on following dates.
April 20, 2020

May 20, 2020

June 22, 2020

July 6, 2020
Important facts
Personal Interview (PI), will be conducted in-person OR interview on Skype will be permitted upon request

Candidates will receive the results of the personal interview on the very next day of the interview

Admission call letter for the selected students will be sent by email

The PGCM Program for 2020-21 batch will commence on the 3 August 2020
Dates and deadlines
Last date to apply for the program is 1st July 2020

PGCM 2020-21 batch will commence from 3rd  August 2020
Fee & Scholarship
The total fee for the Institute's "One- Year Program of Post Graduate Certificate in Management" is INR 6,50,000/- payable in installments as per the following schedule:
| | | |
| --- | --- | --- |
| Description | Amount in INR | Last Date for Payment- on or before |
| 1st Installment | 1,00,000 | 20th July 2020 |
| 2nd Installment | 1,50,000 | 20th August 2020 |
| 3rd Installment | 1,50,000 | 15th October 2020 |
| 4th Installment | 1,50,000 | 10th January 2021 |
| 5th Installment | 1,00,000 | 15th April 2021 |
The above fees include Caution Deposit of Rs. 5000, and Rs. 54,000/- towards hostel fees (Rs. 30,000/- PA as hostel rent and Rs. 24,000/- PA towards establishment charges). 
Payment Option
Online Payment (Net Banking, Credit Cards, Debit Cards, Etc.)

Online Payment link: https://www.sdmimd.ac.in/sdmpayment/
Scholarships 2020-21
According to the official website of the B-School, they are offering the following scholarships:
Merit Scholarship* – Rs. 25,000 for finally selected applicants with minimum 70% each in – 10th Standard; 12th Standard / PUC 2; and Degree. Apply Now
Empowering Woman* – Rs. 50,000 scholarship for finally selected woman applicants with 60% aggregate each in – 10th Standard; 12th Standard / PUC 2; and Degree; with minimum one-year work experience.
* Scholarship subject to the applicant joining the PGCM Program 2020-21 Batch
Subsidy for students selected for Student Exchange Program ranging from Rs. 25000 to Rs. 75000
Students will be entitled to only one of the above scholarships.
Course Structure
As per the B-School, for 15 Months Full-time Residential PGCM program has 90 credits distributed in 4 Terms and has 720 teaching hours including Socially Relevant Project, Study Abroad Program, and, Corporate Immersion Program.
General Structure
The 15 Months full-time residential PGCM program comprises of 4 semesters each of duration varying from 10 to 13 weeks.
The general course contents and curriculum are designed considering the latest development in the business environment and managerial thought and in line with practices in other leading B-Schools the world over.
All the courses in the first & second terms are compulsory core courses. These courses equip students with basic knowledge in various areas of management.
The courses in the 3rd and 4th terms are a mix of Core and Specialization elective Courses with an integrated approach. This integrated specialization courses emphasize the multifunctional and strategic dimensions in decision – making, and include courses related to different functional areas as well as general areas.
The integrated Specialization that comprises salient Courses from the areas of Marketing, Finance, Human Resources Management, Operations, and Systems, along with Core in other management areas.
SDMIMD has built into its curriculum some unique courses and programs that distinguish it from other Institutes, such as Business Ethics, Socially Relevant Project, Study Abroad Program and Corporate Immersion Program.
The program will end with a 3 months dissertation project to be undertaken by the students from August 2020 to October 2020. The award function for students who complete the program successfully will be held in November 2020.
Placement
N/A
Source 1
Got a comment, question or input? Share it below!
Latest News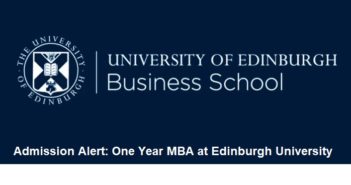 Admission is open for the one-year full-time MBA September 2020 intake at the University of Edinburgh Business School with the…