Is surge pricing the best option for taxi aggregator companies during times of high demand? How is it that in a situation where despite the demand and availability of cabs, passengers still stay away? Ankan Paul, an MBA (EPGP) from IIM Indore argues for auctions during times of high demand and also for a cap on surge pricing.
Demand is defined as an economic principle that describes a consumer's desire and willingness to pay a price for a specific good or service.
The law of demand states that other factors being constant (cetris peribus), price and quantity demanded of any good and service are inversely related to each other. When the price of a product increases, the demand for the product will fall.
I have been an avid Uber user over the past few months. I feel taxi aggregators like Uber and Ola are doing a fantastic job. They have made travelling such an easy job in a city like Bangalore where transport options are limited. 
You have a fantastic bus service here but buses ply on specific routes. Auto operators tend to cheat and haggling with them for every trip is something I would gladly avoid.
There is no other public transport system unlike that in cities like Mumbai or Kolkata and in such a scenario Uber and Ola pretty much came as a boon to all.
However, the party didn't last long. Pretty soon the surge pricing model and on demand pricing model came into play and I had to stop taking Uber and Ola for every need.
I don't think I have a problem with companies trying to monetize their product. But at the same time companies need to be honest and transparent with their customers too – especially in the age of internet based companies, when a lot of logic and pricing analytics goes into deciding the final price of commodities and services.
On a busy evening in Whitefield, Bangalore, while returning from office, I wanted to take a cab. My home is around 6 kms from office. To my surprise this is what Uber threw at me: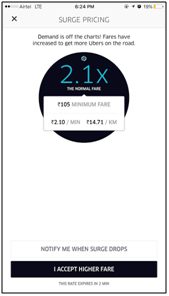 The meaning is simple – Uber is asking me to pay = 105+ 6*14.71+ 2.1* 30 = 256 INR for a 6 km trip.
Moreover Uber claims that the demand is surging off the charts and it is necessary for us customers to pay extra to get more Ubers on the road. At the same time below is the situation with regards to cab availability around me: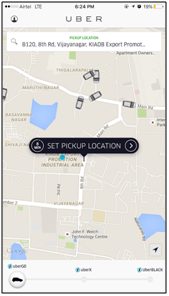 Well demand may be surging through the roof but clearly Uber doesn't need to make an extra effort to make cabs available to me. Cabs are already there.
The situation didn't improve even after waiting a while. It kept on flickering between 2.1 to 1.8 times the normal fare and clearly not many customers were biting the bait.
Here are a few more snapshots of the situation after 5 minutes: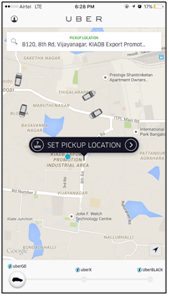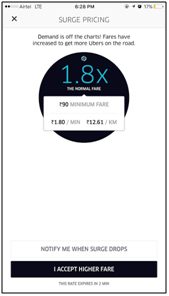 This behavior is familiar to all Bangaloreans who have seen the same thing done by auto rickshaw operators over the years.
Even when the autos are available they will ask for more citing that not many autos are available or simply because they feel like it.
It's also similar to the situation when a onion wholesaler won't release stocks at a lower price just because he knows that it is in demand and he can easily reduce supply to increase the price.
Dear Uber, this is also hoarding. Well, it's in a new form so let's call it cyber hoarding.
So what do you lose as an organization? The ever reliable Uber now suddenly isn't so reliable anymore.
You never know when they will ask for a kidney for a trip to the airport when you have to catch a flight in the evening. Wouldn't you rather go back to the traditional cab service which at least has a fare assurance?
Or would you choose another mode of public transport such as the green Vayu Vajra buses that take you to the airport if you are not under any time pressure. Well there are a lot of choices even now. And in the future, when the city has a better Metro service, citizens will have even more options.
Another moot point is whether they have got the demand pricing model right. Clearly they are focusing on how many customers are looking for cabs in a particular region and taking it as an indicator/proxy for demand. I doubt if that is a right indicator.
Uber may do well to think twice about its monetization policy of surge pricing which will force a lot of potential customers towards finding alternatives.
Another moot point is whether they have got the demand pricing model right. Clearly they are focusing on how many customers are looking for cabs in a particular region and taking it as an indicator/proxy for demand. I doubt if that is a right indicator.
While waiting for buses, I have seen people (many of whom are young professionals and daily passengers) checking out Uber for the heck of it. Also your model is clearly wrong when you see that in spite of having demand from customers and supply of cabbies, the price is causing your services to not be consumed as reflected in the above screenshots.
I believe there should be an upper cap on the surge pricing. You cannot charge 500 bucks for a 5 km ride. That is simply black marketing
A better model in my opinion would be one where cabs are auctioned when the demand is high. As long as there is someone bidding higher than me I don't get the cab. That would be a fair and free marketplace where prices are dictated by demand.
Thirdly, I believe there should be an upper cap on the surge pricing. You cannot charge 500 bucks for a 5 km ride. That is simply black marketing. Whatever demand may there be, Ola and Uber should not to this. Well, technically they can, but the host of admirers they have accumulated so fast will then evaporate just as quickly. (Image courtesy egarden.asia)
Ankan Paul graduated from the One Year Full Time MBA (EPGP) at IIM Indore in 2014 and currently works as a Product Manager with L&T Infotech